Dr Nanette Christie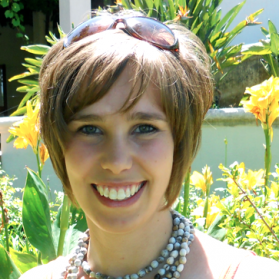 Postdoctoral Fellow
Department
Biochemistry, Genetics and Microbiology
This email address is being protected from spambots. You need JavaScript enabled to view it.
Member of:
My PhD project was part of a collaborative project on the genomics of quantitative disease resistance to Grey leaf spot (GLS), caused by the fungus Cercospora zeina, in African maize varieties. The main objective was to exploit maize gene expression data to dissect the quantitative disease response to C. zeina infection. The project addressed the hypothesis that there are underlying DNA polymorphisms that gives rise to changes in gene expression, which in turn affects GLS disease severity. The outcome included several hypotheses of maize transcriptional responses to C. zeina, which need to be validated with further studies. The results extended the current knowledge of GLS resistance and could aid in the improvement of maize varieties.
I joined the Forest Molecular Genetics (FMG) Research Programme in August 2014 as a Postdoctoral researcher. My current research mainly focuses on understanding the regulatory gene networks underlying important traits in Eucalyptus trees. This will enable directed genetic engineering and molecular breeding for genetic improvement of woody quality and disease resistance in the long term. 
The development of systems genetics data analysis pipelines to analyse data from large breeding populations (Christie et al. 2017, The Plant Journal) is integral to studying the genetic architecture of gene expression and metabolite variation underlying the traits of interest. To query and visualise systems genetics data, we are currently developing a browser for genome-wide expression association data in forest trees as part of the PlantGenIE.org web resource. 
I am further interested in the field of fine-scale transcriptomics. The extent and complexity of alternative mRNA splicing is an important level of genetic regulation that is completely under-studied in Eucalyptus. We are using RNA sequencing to measure and quantify gene expression, and aim to identify the full repertoire of alternatively spliced isoforms in the xylem transcriptome of Eucalyptus. 
Finally, I would like to further my career in Statistical Genomics and Bioinformatics related to Systems Biology. I have formal statistics training which, combined with advanced skills in bioinformatics, makes me a valuable scientist with scarce skills in the South African genomics community. My passion is to empower and help people to properly analyse, visualise and interpret their own data, and furthermore, to extract knowledge or insights from large genomics datasets. 
My Journal Articles
Export to RIS
Publication
Nardini L, Hunt RH, Dahan-Moss YL, Christie N, Christian RN, Coetzee M, Koekemoer LL. (2017) Malaria vectors in the Democratic Republic of the Congo: the mechanisms that confer insecticide resistance in Anopheles gambiae and Anopheles funestus. Malaria Journal 16(1):448. 10.1186/s12936-017-2099-y

Tobias PA, Christie N, Naidoo S, Guest DI, Külheim C. (2017) Identification of the Eucalyptus grandis chitinase gene family and expression characterization under different biotic stress challenges. Tree Physiology 37(5):565-582. 10.1093/treephys/tpx010

Mizrachi E, Verbeke L, Christie N, Fierro AC, Mansfield SD, Davis MF, Gjersing E, Tuskan GA, Van Montagu M, Van de Peer Y, Marchal K, Myburg AA. (2017) Network-based integration of systems genetics data reveals pathways associated with lignocellulosic biomass accumulation and processing. PNAS 114(5):1195-1200. 10.1073/pnas.1620119114

Christie N, Myburg AA, Joubert F, Murray SL, Carstens M, Lin Y-C, Meyer J, Crampton BG, Christensen SA, Ntuli JF, Wighard SS, Van de Peer Y, Berger DK. (2017) Systems genetics reveals a transcriptional network associated with susceptibility in the maize-gray leaf spot pathosystem. The Plant Journal 89(4):746-763. 10.1111/tpj.13419

Christie N, Tobias P, Naidoo S, Guest D, Külheim C. (2016) The Eucalyptus grandis NBS-LRR Gene Family: Physical Clustering and Expression Hotspots. Frontiers in Plant Science 6(1238)

Reeksting BJ, Coetzer N, Mahomed W, Engelbrecht J, van den Berg N. (2014) De novo sequencing, assembly, and analysis of the root transcriptome of Persea americana (Mill.) in response to Phytophthora cinnamomi and flooding. PLoS ONE 9(2):e86399. 10.1371/journal.pone.0086399

Nardini L, Christian RN, Coetzer N, Koekemoer LL. (2013) DDT and pyrethroid resistance in Anopheles arabiensis from South Africa. Parasites & Vectors 6:229. 10.1186/1756-3305-6-229

Nardini L, Christian RN, Coetzer N, Ranson H, Coetzee M, Koekemoer LL. (2012) Detoxification enzymes associated with insecticide resistance in laboratory strains of Anopheles arabiensis of different geographic origin. Parasites & Vectors 5(113)

Christian RN, Strode C, Ranson H, Coetzer N, Coetzee M, Koekemoer LL. (2011) Microarray analysis of a pyrethroid resistant African malaria vector, Anopheles funestus, from southern Africa. Pesticide Biochemistry and Physiology 99(2):140–147.

Coetzer N, Myburg AA, Berger DK. (2011) Maize microarray annotation database. Plant Methods 7(31) 10.1186/1746-4811-7-31

Coetzer N, Gazendam I, Oelofse D, Berger DK. (2010) SSHscreen and SSHdb, generic software for microarray based gene discovery: application to the stress response in cowpea. Plant Methods 6(10)