Ms Juanita Avontuur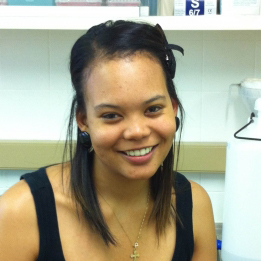 PhD student
Department
Biochemistry, Genetics and Microbiology
This email address is being protected from spambots. You need JavaScript enabled to view it.
My Supervisor/s
My research focuses on the taxonomy and evolution of root nodule bacterial genus Bradyrhizobium. This genus is an ecologically and agriculturally important assemblage. Although this group of bacteria has been the subject of many studies, emphasis is usually on the bacteria-legume interaction and its key role in improving agricultural sustainability. Relatively few studies have been done on the taxonomy and evolution of the genus Bradyrhizobium. The overall research objective for my study is thus to evaluate the current taxonomic status of the genus Bradyrhizobium using genome information and the future feasibility thereof. This study can provide us with the basis for using genome sequence information as a resource to investigate biological traits important to the delineation of this genus.
Science Outreach
Chair of Centre of Excellence in Plant Health Biotechnology (CPHB) Outreach team (2015-Present)
Involved in CPHB Outreach team since 2014. Aim is to popularize and familiarize learners with the science linked to plant health in the Agricultural and Forestry sectors. Contributing towards keeping learners and public informed and critically engaged citizens. This was achieved through presentations and exhibitions at schools, National Science Week and Science Centers.
---
Teaching
Mentoring
2016-Present
Assist new Honours and Masters students in the laboratory as well as their research projects.
Practical Demonstrator at University of Pretoria (Department of Biochemistry, Genetics and Microbiology)
MBY 355 Demonstrator (2018-Pressent)
MSc. student mentor (2019- Present)
Honours student mentor (2016-2019)
MBY 251 Demonstrator (2015-2017)
MBY 161 Tutoring (2013-2014)
.
---
My Book Chapters
Export to RIS
Book Chapters
Avontuur JR, Palmer M, Coetzee MPA, Steenkamp ET. 2022. Tatumella. In Bergey's Manual of Systematics of Archaea and Bacteria (eds M.E. Trujillo, S. Dedysh, P. DeVos, B. Hedlund, P. Kämpfer, F.A. Rainey and W.B. Whitman). https://doi.org/10.1002/9781118960608.gbm01170.pub2

My Journal Articles
Export to RIS
Publication
Avontuur JR, Wilken PM, Palmer M, Coetzee MPA, Stępkowski T, Venter SN, Steenkamp ET. (2023) Complex evolutionary history of photosynthesis in Bradyrhizobium. Microbial Genomics 9(9) 10.1099/mgen.0.001105

Mavima L, Beukes CW, Palmer M, De Meyer SE, James EK, Maluk M, Muasya MA, Avontuur JR, Chan WY, Venter SN, Steenkamp ET. (2022) Delineation of Paraburkholderia tuberum sensu stricto and description of Paraburkholderia podalyriae sp. nov. nodulating the South African legume Podalyria calyptrata. Systematic and Applied Microbiology 45(3) 10.1016/j.syapm.2022.126316

Avontuur JR, Palmer M, Beukes CW, Wai YC, Tasiya T, van Zyl E, Coetzee MPA, Stepkowski T, Venter SN, Steenkamp ET. (2022) Bradyrhizobium altum sp. nov., Bradyrhizobium oropedii sp. nov. and Bradyrhizobium acaciae sp. nov. from South Africa show locally restricted and pantropical nodA phylogeographic patterns. Molecular Phylogenetics and Evolution 167 10.1016/j.ympev.2021.107338

Mavima L, Beukes CW, Palmer M, De Meyer SE, James EK, Maluk M, Gross E, dos Reis Junior FB, Avontuur JR, Chan WY, Venter SN, Steenkamp ET. (2020) Paraburkholderia youngii sp. nov. and 'Paraburkholderia atlantica' - Brazilian and Mexican Mimosa-associated rhizobia that were previously known as Paraburkholderia tuberum sv. mimosae. Systematic and Applied Microbiology 10.1016/j.syapm.2020.126152

Beukes CW, Sereme TK, Phalane FL, Mthombeni LS, Palmer M, Hassen AI, Chan WY, Avontuur J, van Zyl E, Steenkamp ET, Venter SN. (2019) Paraburkholderia strydomiana sp. nov. and Paraburkholderia steynii sp. nov.: rhizobial symbionts of the fynbos legume Hypocalyptus sophoroides. Antonie van Leeuwenhoek 10.1007/s10482-019-01269-5

Palmer M, Venter SN, McTaggart AR, Coetzee MPA, Van Wyk S, Avontuur JR, Beukes CW, Fourie G, Santana QC, Van der Nest MA, Blom J, Steenkamp ET. (2019) The synergistic effect of concatenation in phylogenomics: the case in Pantoea. PeerJ 10.7717/peerj.6698

Avontuur JR, Palmer M, Beukes CW, Chan WY, Coetzee MPA, Blom J, Stępkowski T, Kyrpides NC, Woyke T, Shapiro N, Whitman WB, Venter SN, Steenkamp ET. (2019) Genome-informed Bradyrhizobium taxonomy: where to from here?. Systematic and Applied Microbiology 10.1016/j.syapm.2019.03.006

Palmer M, Steenkamp ET, Coetzee MPA, Avontuur JR, Chan WY, Van Zyl E, Blom J, Venter SN. (2018) Mixta gen. nov., a new genus in the Erwiniaceae. International Journal of Systematic and Evolutionary Microbiology 68:1396-1407. 10.1099/ijsem.0.002540

Beukes CW, Palmer M, Manyaka P, Chan W-Y, Avontuur JR, Van Zyl E, Huntemann M, Clum A, Pillay M, Palaniappan K, Varghese N, Mikhailova N, Stamatis D, Reddy TBK, Daum C, Shapiro N, Markowitz V, Ivanova N, Kyrpides N, Woyke T, Blom J, Whitman WB, Venter SN, Steenkamp ET. (2017) Genome data provides high support for generic boundaries in Burkholderia sensu lato. Frontiers in Microbiology 8(1154) 10.3389/fmicb.2017.01154

Steenkamp ET, van Zyl E, Beukes CW, Avontuur J, Chan W-Y, Palmer M, Mthombeni LS, Phalane FL, Sereme TK, Venter SN. (2015) Burkholderia kirstenboschensis sp. nov. nodulates papilionoid legumes indigenous to South Africa. Systematic and Applied Microbiology 38(8):545-554. 10.1016/j.syapm.2015.09.003