Dr Chrizelle Beukes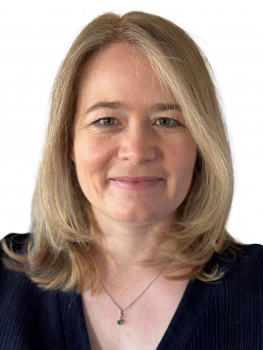 Postdoctoral Fellow
Department
Biochemistry, Genetics and Microbiology
This email address is being protected from spambots. You need JavaScript enabled to view it.
The focus of my research is to identify, characterise and study the evolution of a special group of soil bacteria. These bacteria (informally referred as rhizobia) can enter into a symbiotic interaction with legumes, where they fix atmospheric nitrogen for the plant and receive photosynthetic products in return. The most obvious result of the interaction is the formation of nodules on the roots of the plants and in some instances also on the stem.
In South Africa we have a large diversity of legumes, the most well-known of which is most probably rooibos tea (Aspalathus linearis). For the most part the identity of the rhizobia associated with our indigenous legumes are unknown, this could prove problematic as it has been discovered that it is possible for the rhizobia of invasive legumes to disrupt an indigenous interaction thereby providing the invasive legume with a competitive edge. If we ever needed to someday replace the indigenous rhizobia of 'our' legumes, we would of course need to know who they are and the conditions in which they function optimally. There is also always the possibility that these newly identified rhizobia could prove to be better inoculum for legume crops. My study therefore forms part of the scope of the DST/NRF Centre of Excellence in Tree Health Biotechnology.
Whereas my MSc study investigated the rhizobia associated with the tribes Hypocalypteae and Podalyrieae, my current study investigates the rhizobial partners of members of the tribes Crotalarieae and Genisteae. I also hope to include work on the association between nodulating members of the bacterial genera Bradyrhizobium, Methylobacterium and Burkholderia.    
My Journal Articles
Export to RIS
Publication
Estrada-de los Santos P, Palmer M, Steenkamp ET, Maluk M, Beukes C, Hirsch AM, James EK, Venter SN. (2019) Trinickia dabaoshanensis sp. nov., a new name for a lost species. Archives in Microbiology 10.1007/s00203-019-01703-2

Beukes CW, Boshoff FS, Phalane FL, Hassen AI, le Roux MM, Stępkowski T, Venter SN, Steenkamp ET. (2019) Both alpha- and beta-rhizobia occupy the root nodules of Vachellia karroo in South Africa. 10.3389/fmicb.2019.01195

Beukes CW, Sereme TK, Phalane FL, Mthombeni LS, Palmer M, Hassen AI, Chan WY, Avontuur J, van Zyl E, Steenkamp ET, Venter SN. (2019) Paraburkholderia strydomiana sp. nov. and Paraburkholderia steynii sp. nov.: rhizobial symbionts of the fynbos legume Hypocalyptus sophoroides. Antonie van Leeuwenhoek 10.1007/s10482-019-01269-5

Palmer M, Venter SN, McTaggart AR, Coetzee MPA, Van Wyk S, Avontuur JR, Beukes CW, Fourie G, Santana QC, Van der Nest MA, Blom J, Steenkamp ET. (2019) The synergistic effect of concatenation in phylogenomics: the case in Pantoea. PeerJ 10.7717/peerj.6698

Avontuur JR, Palmer M, Beukes CW, Chan WY, Coetzee MPA, Blom J, Stępkowski T, Kyrpides NC, Woyke T, Shapiro N, Whitman WB, Venter SN, Steenkamp ET. (2019) Genome-informed Bradyrhizobium taxonomy: where to from here?. Systematic and Applied Microbiology 10.1016/j.syapm.2019.03.006

Estrada-de los Santos P, Palmer M, Chávez-Ramírez B, Beukes C, Steenkamp ET, Briscoe L, Khan N, Maluk M, Lafos M, Humm E, Arrabit M, Crook M, Gross E, Simon MF, Bueno dos Reis F, Whitman WB, Shapiro N, Poole PS, Hirsch AM, Venter SN, James EK. (2018) Whole Genome Analyses Suggests that Burkholderia sensu lato Contains Two Additional Novel Genera (Mycetohabitans gen. nov., and Trinickia gen. nov.): Implications for the Evolution of Diazotrophy and Nodulation in the Burkholderiaceae. Genes 9(8):389. 10.3390/genes9080389

Beukes CW, Palmer M, Manyaka P, Chan W-Y, Avontuur JR, Van Zyl E, Huntemann M, Clum A, Pillay M, Palaniappan K, Varghese N, Mikhailova N, Stamatis D, Reddy TBK, Daum C, Shapiro N, Markowitz V, Ivanova N, Kyrpides N, Woyke T, Blom J, Whitman WB, Venter SN, Steenkamp ET. (2017) Genome data provides high support for generic boundaries in Burkholderia sensu lato. Frontiers in Microbiology 8(1154) 10.3389/fmicb.2017.01154

Venter SN, Palmer M, Beukes CW, Chan W-Y, Shin G, Van Zyl E, Seale T, Coutinho TA, Steenkamp ET. (2017) Practically delineating bacterial species with genealogical concordance. Antonie van Leeuwenhoek 110(10):1311-132. 10.1007/s10482-017-0869-8

Magadlela A BC, Venter F, Steenkamp E, Valentine A. (2017) Does P deficiency affect nodule bacterial composition and N source utilization in a legume from nutrient-poor Mediterranean-type ecosystems?. Soil Biology & Biochemistry 104:164-174. 10.1016/j.soilbio.2016.10.021

Beukes CW, Stepkowski T, Venter SN, Clapa T, Phalane FL, le Roux MM, Steenkamp ET. (2016) Crotalarieae and Genisteae of the South African Great Escarpment are nodulated by novel Bradyrhizobium species with unique and diverse symbiotic loci. Molecular Phylogenetics and Evolution 100:206-218. 10.1016/j.ympev.2016.04.011

Steenkamp ET, van Zyl E, Beukes CW, Avontuur J, Chan W-Y, Palmer M, Mthombeni LS, Phalane FL, Sereme TK, Venter SN. (2015) Burkholderia kirstenboschensis sp. nov. nodulates papilionoid legumes indigenous to South Africa. Systematic and Applied Microbiology 38(8):545-554. 10.1016/j.syapm.2015.09.003

Beukes CW, Venter SN, Law IJ, Phalane FL, Steenkamp ET. (2013) South African papilionoid legumes are nodulated by diverse Burkholderia with unique nodulation and nitrogen-fixation loci. PLos ONE 8(7):e68406. 10.1371/journal.pone.0068406 PMCID: PMC3708930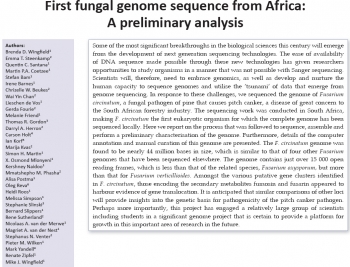 Wingfield BD, Steenkamp ET, Santana QC, Coetzee MPA, Bam S, Barnes I, Beukes CW, Chane W-Y, de Vos L, Fourie G, Friend M, Gordon TR, Herron DA, Holt C, Korf I, Kvas M, Martin SH, Mlonyeni XO, Naidoo K, Phasha MM, Postma A, Reva O, Roos H, Simpson M, Slinski S, Slippers B, Sutherland R, van der Merwe NA, van der Nest MA, Venter SNV, Wilken PM, Yandell M, Zipfel R, Wingfield MJ. (2012) First fungal genome sequence from Africa: a preliminary analysis. South African Journal of Science 108:104-122. 10.4102/sajs.v108i1/2.537