Dr Markus Wilken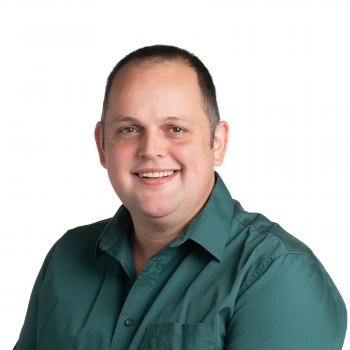 Lecturer

Department

Biochemistry, Genetics and Microbiology

Full CV

This email address is being protected from spambots. You need JavaScript enabled to view it.
Research Profiles
My Students
Postdoctoral Fellows
Doctoral Students
Masters Students
My research specialization in on the molecular biology of plant pathogenic fungi. My research focuses on using genomics and molecular tools to study the basic biology of these species. I focus my studies on pathogens of economic importance in the commercial forest and agricultural sectors. The goal of my work is to develop a better understanding of these fungi in the South African context, while doing research that is of global importance.
Sexual reproduction in the Ceratocystidaceae
At present I am continuing a long-running study on the mating system of species in the Ceratocystidaceae. This work is an extension of my post-doctoral studies and has the long-term aim of unraveling the complex evolutionary history of sexual reproduction in this group. I utilize the genomes of these species to study the mating type locus and pheromone/receptor system that act as primary drivers of sexual reproduction. These genomes provide a useful resource that has underpinned various studies on the Ceratocystidaceae apart from their mating behavior.
The Grain Research Project at FABI
I am also a member of the GRP research program that focuses on Agricultural crops. This program aims to provide support for the South African Agricultural sector through world-class research on economically important crops and their associated pests and diseases. My specific focus is on Sclerotinia sclerotiorum, a multihost pathogen of economic importance to agriculture. Although there is a wealth of information available for this fungus, little is known about this species in the Southern African context.
News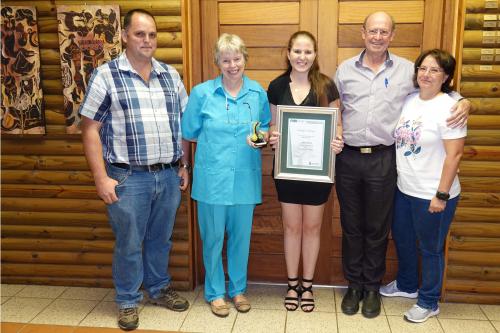 My Journal Articles
Export to RIS
Publication
Avontuur JR, Wilken PM, Palmer M, Coetzee MPA, Stępkowski T, Venter SN, Steenkamp ET. (2023) Complex evolutionary history of photosynthesis in Bradyrhizobium. Microbial Genomics 9(9) 10.1099/mgen.0.001105

van der Walt D, Steenkamp ET, Wingfield BD, Wilken PM. (2023) Evidence of Biparental Mitochondrial Inheritance from Self-Fertile Crosses between Closely Related Species of Ceratocystis. Journal of Fungi 9(6):686. 10.3390/jof9060686

Maseko NN, Steenkamp ET, Wingfield BD, Wilken PM. (2023) An in Silico Approach to Identifying TF Binding Sites: Analysis of the Regulatory Regions of BUSCO Genes from Fungal Species in the Ceratocystidaceae Family. Genes 14(4):848. 10.3390/genes14040848

Wingfield BD, Berger DK, Coetzee MPA, Duong TA, Martin A, Pham NQ, Van den Berg N, Wilken PM, Arun-Chinnappa KS, Barnes I, Buthelezi S, Dahanayaka BA, Durán A, Engelbrecht J, Feurtey A, Fourie A, Fourie G, Hartley J, Kabwe ENK, Maphosa M, Narh Mensah DL, Nsibo DL, Potgieter L, Poudel B, Stukenbrock EH, Thomas C, Vaghefi N, Welgemoed T, Wingfield MJ. (2022) IMA genome‑F17. 13:19. 10.1186/s43008-022-00104-3

Duong AT, Aylward J, Ametrano CG, Poudel E, Santana QC, Wilken PM, Martin A, Arun-Chinnappa KS, De Vos L, DiStefano I, Grewe F, Huhndorf S, Lumbsch HT, Rakoma JR, Steenkamp ET, Sun Y, van der Nest MA, Wingfield MJ, Yilmaz N, Wingfield BD. (2021) Draft genome assembly of Fusarium pilosicola, Meredithiella fracta, Niebla homalea, Pyrenophora teres hybrid WAC10721, and Teratosphaeria viscida. IMA Fungus 12(1):30. 10.1186/s43008-021-00077-9

Wilson AM, Wilken PM, Wingfield MJ, Wingfield BD. (2021) Genetic networks that govern sexual reproduction in the Pezizomycotina. Microbiology and Molecular Biology Reviews 85(4):e00020-21. 10.1128/MMBR.00020-21.

Lane FA, Du Plessis D, Wingfield BD, Wilken PM. (2021) Transferring an Agrobacterium‐mediated transformation protocol across eight genera in the Ceratocystidaceae. Forest Pathology e12688 10.1111/efp.12688

van der Nest MA, Chávez R, De Vos L, Duong TA, Gil-Durán C, Ferreira MA, Lane FA, Levicán G, Santana QC, Steenkamp ET, Suzuki H, Tello M, Rakoma JR, Vaca I, Valdés N, Wilken PM, Wingfield MJ, Wingfield BD. (2021) Draft genome sequences of Penicillium roqueforti, Fusarium sororula, Chrysoporthe puriensis, and Chalaropsis populi. IMA Fungus 12:5. 10.1186/s43008-021-00055-1

Wilson AM, Gabriel R, Singer SW, Schuerg T, Wilken PM, van der Nest MA, Wingfield MJ, Wingfield BD. (2021) Doing it alone: Unisexual reproduction in filamentous ascomycete fungi. Fungal Biology Reviews 35:1-13. 10.1016/j.fbr.2020.12.003

Krämer D, Lane FA, Steenkamp ET, Wingfield BD, Wilken PM. (2021) Unidirectional mating-type switching confers self-fertility to Thielaviopsis cerberus, the only homothallic species in the genus. Fungal Biology 10.1016/j.funbio.2020.12.007

Wilken PM, Kharwar RN, Lumbsch HT, Navathe S, Pérez CA, Ramírez-Berrutti N, Sharma R, Sun Y, Wingfield BD, Huhndorf S, Duong TA, Aylward J, Chand R, Grewe F, Lane FA, Sinha S, Ametrano C, Distefano I, Divakur PK, Wingfield MJ. (2020) Draft genome sequences of Ambrosiella cleistominuta, Cercospora brassicicola, C. citrullina, Physcia stellaris and Teratosphaeria pseudoeucalypti.. IMA Fungus 11(19) 10.1186/s43008-020-00039-7

Havenga M, Chen S, Wilken PM, Duong TA, Tatham CT, Dreyer LL, Roets F, Wingfield MJ, Wingfield BD, Aylward J. (2020) Mating strategy and mating type distribution in six global populations of the Eucalyptus foliar pathogen Teratosphaeria destructans. Fungal Genetics and Biology 137:103350. 10.1016/j.fgb.2020.103350

Wilson AM, Wilken PM, van der Nest MA, Wingfield MJ, Wingfield BD. (2020) The novel Huntiella omanensis mating gene, MAT1-2-7, is essential for ascomatal maturation. Fungal Genetics & Biology 137:103335. 10.1016/j.fgb.2020.103335

Wilson AM, van der Nest MA, Wilken PM, Wingfield MJ, Wingfield BD. (2019) It's All in the Genes: The Regulatory Pathways of Sexual Reproduction in Filamentous Ascomycetes. Genes 10(5):330. 10.3390/genes10050330

van der Nest MA, Wingfield MJ, McTaggart AR, Van Wyk S, De Vos L, Trollip C, Santana QC, Naidoo K, Dong TA, Wilken PM, Chan W-Y, Palmer M, Soal NA, Roodt D, Steenkamp ET, Wingfield BD. (2019) Genomic analysis of the aggressive tree pathogen Ceratocystis albifundus. Fungal Biology 10.1016/j.funbio.2019.02.002

Sayari M, van der Nest MA, Steenkamp ET, Soal NC, Wilken PM, Wingfield BD. (2019) Distribution and evolution of nonribosomal peptide synthetase gene clusters in the Ceratocystidaceae. Genes 10, 328 10.3390/genes10050328

Wingfield BD, Kolarik M, Menzies JG, Naidoo K, Pochopski O, Shoukouhi P, Santana QC, Seifert KA, Soal NA, Steenkamp ET, Tatham CT, Van der Nest MA, Havenga M, Findlay W, Liu M, Nguyen HDT, Lane FA, Morgan SW, De Vos L, Wilken PM, Doung TA, Aylward J, Coetzee MPA, Dadej K, De Beer ZW, Wingfield MJ. (2018) Nine draft genome sequences of Claviceps purpurea s.lat., including C. arundinis, C. humidiphila, and C. cf. spartinae, pseudomolecules for the pitch canker pathogen Fusarium circinatum, draft genome of Davidsoniella eucalypti, Grosmannia galeiformis, Quambalaria eucalypti, and Teratosphaeria destructans. IMA Fungus 9(2):401-418. 10.5598/imafungus.2018.09.02.10

Wingfield BD, Bills GF, Dong Y, Huang W, Nel WJ, Swalarsk-Parry BS, Vaghefi N, Wilken PM, An Z, de Beer ZW, De Vos L, Chen L, Duong TA, Gao Y, Hammerbacher A, Kikkert JR, Li Y, Li H, Li K, Li Q, Liu X, Ma X, Naidoo K, Pethybridge SJ, Sun J, Steenkamp ET, van der Nest M, van Wyk S, Wingfield MJ, Xiong C, Yue Q, Zhang X. (2018) IMA Genome-F 9 Draft genome sequence of Annulohypoxylon stygium, Aspergillus mulundensis, Berkeleyomyces basicola (syn. Thielaviopsis basicola), Ceratocystis smalleyi, two Cercospora beticola strains, Coleophoma cylindrospora, Fusarium fracticaudum, Phialophora cf. hyalina, and Morchella septimelata. IMA Fungus 9(1):199-223. 10.5598/imafungus.2018.09.01.13

Wilson A, Van der Nest M, Wilken P, Wingfield M, Wingfield B. (2018) Pheromone expression reveals putative mechanism of unisexuality in a saprobic ascomycete fungus. PLOS One 13(3):e0192517. 10.1371/journal.pone.0192517

Wilken PM, Steenkamp ET, Van der Nest MA, Wingfield MJ, De Beer ZW, Wingfield BD. (2018) Unexpected placement of the MAT1-1-2 gene in the MAT1-2 idiomorph of Thielaviopsis. Fungal Genetics and Biology 32:32-41. 10.1016/j.fgb.2018.01.007

Wingfield BD, Berger DK, Steenkamp ET, Lim H-J, Duong TA, Bluhm BH, De Beer ZW, De Vos L, Fourie G, Naidoo K, Olivier NA, Lin Y, Van der Peer Y, Joubert F, Crampton BG, Swart V, Soal N, Tatham C, Van der Nest MA, Van der Merwe NA, Van Wyk S, Wilken PM, Wingfield MJ. (2017) IMA Genome-F 8 Draft genome of Cercospora zeina, Fusarium pininemorale, Hawksworthiomyces lignivorus, Huntiella decipiens and Ophiostoma ips. IMA Fungus 8 (2):385‑396. 10.5598/imafungus.2017.08.02.10

Wilken PM, Steenkamp ET, Wingfield MJ, De Beer ZW, Wingfield BD. (2017) Which MAT gene? Pezizomycotina (Ascomycota) mating-type gene nomenclature reconsidered. Fungal Biology Reviews 31:199-211. 10.1016/j.fbr.2017.05.003

Wingfield BD, Duong TA, Hammerbacher A, van der Nest MA, Wilson A, Chang R, de Beer ZW, Steenkamp ET, Wilken PM, Naidoo K, Wingfield MJ. (2016) IMA Genome-F 7 Draft genome sequences for Ceratocystis fagacearum, C. harringtonii, Grosmannia penicillata, and Huntiella bhutanensis. IMA Fungus 7(2):317-323. 10.5598/imafungus.2016.07.02.11

Wingfield BD, Ambler JM, Coetzee MPA, De Beer ZW, Duong TA, Joubert F, Hammerbacher A, McTaggart AR, Naidoo K, Nguyen HDT, Ponomareva E, Santana QS, Seifert KA, Steenkamp ET, Trollip C, Van der Nest MA, Visagie CM, Wilken PM, Wingfield MJ, Yilmaz N. (2016) IMA Genome-F 6: Draft genome sequences of Armillaria fuscipes, Ceratocystiopsis minuta, Ceratocystis adiposa, Endoconidiophora laricicola, E. polonica and Penicillium freii DAOMC 242723. IMA Fungus 7(1):217-227. 10.5598/imafungus.2016.07.01.11

van der Nest MA, Wingfield MJ, Wilken PM, Coetzee MPA, Naidoo K, Roodt D, Sauerman E, Godlonton T, Trollip C, McTaggart AR, Steenkamp ET, Wingfield BD. (2015) Saprophytic and pathogenic fungi in the Ceratocystidaceae differ in their ability to metabolize plant-derived sucrose. BMC Evolutionary Biology 15:273. 10.1186/s12862-015-0550-7

Wingfield BD, Barnes I, De Beer ZW, De Vos L, Duong TA, Kanzi AM, Naidoo K, Nguyen HDT, Santana QC, Sayari M, Seifert KA, Steenkamp ET, Trollip C, Van der Merwe N, Van der Nest MA, Wilken PM, Wingfield MJ. (2015) Draft genome sequences of Ceratocystis eucalypticola, Chrysoporthe cubensis, C. deuterocubensis, Davidsoniella virescens, Fusarium temperatum, Graphilbum fragrans, Penicillium nordicum, and Thielaviopsis musarum. IMA Fungus 6(2):493-506. 10.5598/imafungus.2015.06.02.13

Marincowitz S, Coetzee MPA, Wilken PM, Wingfield BD, Wingfield MJ. (2015) Phylogenetic placement of Itajahya: An unusual Jacaranda fungal associate. IMA Fungus 6(2):257-262. 10.5598/imafungus.2015.06.02.01

Wilson AM, Wilken PM, van der Nest MA, Steenkamp ET, Wingfield MJ, Wingfield BD. (2015) Homothallism: An umbrella term for describing diverse sexual behaviours. IMA Fungus 6(1):207-214. 10.5598/imafungus.2015.06.01.13


Wilson AM, Godlonton T, van der Nest MA, Wilken PM, Wingfield MJ, Wingfield BD. (2015) Unisexual Reproduction in Huntiella moniliformis. Fungal Genetics and Biology 80:1-9. 10.1016/j.fgb.2015.04.008

Van der Nest MA, Beirn LA, Crouch JA, Demers JE, De Beer ZW, De Vos L, Gordon TR, Moncalvo JM, Naidoo K, Sanchez-Ramirez S, Roodt D, Santana QC, Slinksi SL, Stata M, Taerum SJ, Wilken PM, Wilson AM, Wingfield MJ, Wingfield BD. (2014) Draft genomes of Amanita jacksonii, Ceratocystis albifundus, Fusarium circinatum, Huntiella omanensis, Leptographium procerum, Rutstroemia sydowiana, and Sclerotinia echinophila. IMA Fungus 5(2):473-486. 10.5598/imafungus.2014.05.02.11

Van der Nest MA, Bihon W, De Vos L, Naidoo K, Roodt D, Rubagotti E, Slippers B, Steenkamp ET, Wilken PM, Wilson A, Wingfield MJ, Wingfield BD. (2014) Draft genome sequences of Diplodia sapinea, Ceratocystis manginecans, and Ceratocystis moniliformis. IMA Fungus 5(1):135-140. 10.5598/imafungus.2014.05.01.13

Wilken PM, Steenkamp ET, Wingfield MJ, De Beer ZW, Wingfield BD. (2014) DNA loss at the Ceratocystis fimbriata mating locus results in self-sterility. PLoS ONE 9(3):e92180. 10.1371/journal.pone.0092180

Wilken PM, Steenkamp ET, Wingfield MJ, De Beer ZW, Wingfield BD. (2013) Draft nuclear genome sequence for the plant pathogen, Ceratocystis fimbriata. IMA Fungus 4:357-358. 10.5598/imafungus.2013.04.02.14

Simpson MC, Wilken PM, Coetzee MPA, Wingfield MJ, Wingfield BD. (2013) Analysis of microsatellite markers in the genome of the plant pathogen Ceratocystis fimbriata. Fungal Biology 117(7-8):545-555. 10.1016/j.funbio.2013.06.004

van der Nest MA, Steenkamp ET, Wilken MP, Stenlid J, Wingfield MJ, Wingfield BD, Slippers B. (2013) Mutualism and asexual reproduction influence recognition genes in a fungal symbiont. Fungal Biology 117:439-450. 10.1016/j.funbio.2013.05.001

Wilken PM, Steenkamp ET, Hall TA, De Beer ZW, Wingfield MJ, Wingfield BD. (2012) Both mating types in the heterothallic fungus Ophiostoma quercus contain MAT1-1 and MAT1-2 genes. Fungal Biology 116(3):427-437. 10.1016/j.funbio.2012.01.002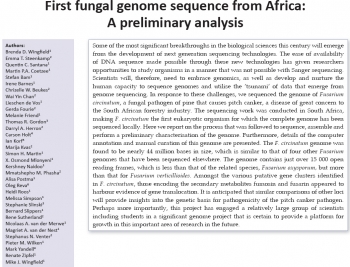 Wingfield BD, Steenkamp ET, Santana QC, Coetzee MPA, Bam S, Barnes I, Beukes CW, Chane W-Y, de Vos L, Fourie G, Friend M, Gordon TR, Herron DA, Holt C, Korf I, Kvas M, Martin SH, Mlonyeni XO, Naidoo K, Phasha MM, Postma A, Reva O, Roos H, Simpson M, Slinski S, Slippers B, Sutherland R, van der Merwe NA, van der Nest MA, Venter SNV, Wilken PM, Yandell M, Zipfel R, Wingfield MJ. (2012) First fungal genome sequence from Africa: a preliminary analysis. South African Journal of Science 108:104-122. 10.4102/sajs.v108i1/2.537

van der Nest MA, Slippers B, Stenlid J, Wilken PM, Vasaitis R, Wingfield MJ, Wingfield BD. (2008) Characterization of the systems governing sexual and self-recognition in the white rot homobasidiomycete Amylostereum areolatum. Current Genetics 53(6):323-336. 10.1007/s00294-008-0188-8