Mr Johannes Christoff Joubert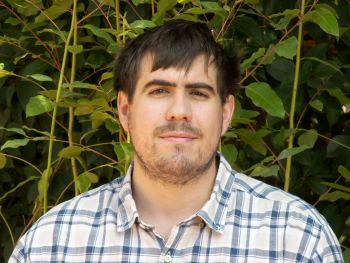 PhD student

Department

FABI

Short CV

This email address is being protected from spambots. You need JavaScript enabled to view it.
Research Profiles
My Supervisor/s
About Me:
I began my scientific career when I joined the Forestry and Agricultural Biotechnology Institute (FABI) in 2017 to pursue a Bachelor of Science (Honours) in Microbiology under the direction of Dr. Almuth Hammerbacher. This was a very fruitful experience leading me to my current position as a PhD student under the same advisor. My research has strong ties to the forestry industry trying to find usable solutions to a complex biological problem. I find my work incredibly rewarding as I get the opportunity to merge creative problem-solving and cutting-edge technology to try and understand the workings, at a chemical level, of an important pest and to hopefully provide meaningful contributions to alleviate its damage.
 I am also very passionate about science communication because I believe that your research has little impact if no one notices it. Therefore I like to blend art, animation, and science to help simplify and share the discoveries in my research.
Research:
Gonipterus sp. n. 2:
My research focuses on the Eucalyptus snout weevil (Gonipterus spp.) which is a devastating pest of Eucalyptus, that has, over the last 100 years been introduced from South East Australia and Tasmania to nearly every continent with commercial Eucalyptus timber plantations. The Gonipterus scutellatus species complex contains 8 cryptic species, with G. platensis, G. pulverulentus and Gonipterus sp. n. 2 being invasive pests. In South Africa, Gonipterus spp. identified as G. scutellatus is now identified as a different but still undescribed species, Gonipterus sp. n. 2.
Damage is caused by feeding of both the adult and larval stages of Gonipterus sp. n. 2.Adult weevils feed on leaves, young shoots, buds, and tips resulting in scalloped leaf edges and die-back of shoot tips.
Larval feeding occurs on the entire epidermis of young leaves leaving behind fibrous leaf tissue.
 (https://www.fabinet.up.ac.za/index.php/tpcp/forest-threats/gonipterus-sp-n-2)
Feeding occurs mostly on young and tender developing leaves which may lead to complete defoliation and a loss in apical dominance. Severe Gonipterus spp. outbreaks, which annually consume up to 50% of the tree's crown, are thought to reduce wood production by an estimated 85% over a 10-year growth period.
Gonipterus sp. n. 2 is primarily controlled by Anaphes nitens, an egg parasitoid, which was introduced from the weevils' native range into countries with significant weevil damage such as South Africa and Spain.
(https://bicep.net.au/fabi-biocontrol-centre-imports-anaphes-nitens-from-australia/)
While historically A. nitens reduced Gonipterus sp. n. 2 damage enough to be considered under economic control, many large-scale outbreaks have been recorded over the last two decades in South Africa. The reason for these outbreaks is unknown, but it is hypothesized that the efficacy of A. nitens as a biocontrol agent may have decreased. Therefore, alternative management strategies, such as planting resistant trees, should be considered. 
MSc (Zoology) - 2018/2019: 
The chemical basis of Eucalyptus resistance against Gonipterus sp. n. 2 is currently unknown, which complicates breeding for resistant genotypes. Therefore my Msc project was designed to help better understand the which constitutive metabolites within Eucalyptus leaves would affect adult Gonipterus sp. n. 2 feeding behavior. We began by using a laboratory choice assay to assess the relative levels of susceptibility of 62 Eucalyptus genotypes from 23 species toward Gonipterus sp. n. 2.
These bioassays revealed large intraspecific variation in susceptibility to weevil feeding, which for certain species, exceeded the interspecific variation. This variation allowed for easier identification of the important metabolites associated with resistance. Therefore we conducted a metabolite profile analysis on 17 genotypes from three species, which revealed strong correlations of 10 metabolites.
We then wanted to confirm that the metabolites with strong correlation did have a true behavioral effect, which was assessed through an in vitro feeding preference assay using an artificial diet developed for this project. This revealed three phagostimulants (1,8-cineole, oxalic acid, and sucrose) and two repellent compounds (shikimic acid and palmitic acid) for Gonipterus sp. n. 2.
PhD (Zoology) - 2020/Current: 
During my PhD my focus remained on Gonipterus sp. n. 2. We began by answering the questions left over from my MSc. Collaborating with the ICFR to confirm our laboratory results under field conditions, using 12 unique genotypes. Next, we investigated why behavioral effects occur in oxalic, palmitic, and shikimic acid. Testing the differential concentration of oxalic acid and palmitic acid between differing leaf ages and assessing the effect of shikimic acid on phytohormone production between resistant and susceptible genotypes.
We then endeavored to create a simpler method of screening for the three phagostimulants and two repellent metabolites we identified. We turned to a spectroradiometer, using a newly acquired ASD FieldSpec to take readings from a new ICFR plantation at 3-time points and correlate the concentration of our 5 metabolites of interest to levels of Gonipterus damage. Then using the light spectrum in conjunction with basic artificial intelligence algorithms to try and identify the metabolites via the wavelength, which once identified can be applied to cheaper spectroradiometers for easy screening.
After finishing the work on the constitutive chemical compounds we turned our attention to induced defense metabolites. We conducted a volatile collection experiment to determine which Eucalyptus metabolites were induced due to feeding and oviposition, feeding only, oviposition only, and mechanical wounding. These results were enhanced through an mRNA sequencing experiment to determine the differential expression of the Eucalyptus genes in response to oviposition by Gonipterus sp. n. 2 and mechanical wounding. The metabolites highly expressed after feeding and oviposition were tested via y-tube olfactometer assays to determine their behavioral effects on both Anaphes nitens and Gonipterus sp. n. 2.
Lastly, we wanted to understand how the changes to the Eucalyptus species planted have impacted Anaphes nitens. Therefore we fed Gonipterus sp. n. 2 adult leaves from Eucalyptus species that were both historically and currently planted, then compare the behavior and fidelity of Anaphes nitens between their eggs. We will then conduct a chemical analysis to find the compounds corrected with wasp behavior and test them via y-tube olfactometer assays to confirm their effect.
Conferences:
Oral Presentations:
Bioassay and mass spectrometry-guided identification of constitutive plant metabolites associated with the feeding preference of the Eucalyptus snout beetle, Gonipterus sp. n. 2. Joubert J., Sivparsad B., Schröder M., Germishuizen I, Chen J., Hurley B., Allison J. and Hammerbacher A. 36th Annual meeting of the International Society of Chemical Ecology. 05/09/2021
Susceptibility of Eucalyptus trees to defoliation by the Eucalyptus snout beetle, Gonipterus sp. n. 2, is enhanced by high foliar contents of 1,8-cineole, oxalic acid, and sucrose and low contents of palmitic and shikimic acid. Joubert J., Sivparsad B., Schröder M., Germishuizen I, Chen J., Hurley B., Allison J. and Hammerbacher A. IUFRO Conference Division 7 – Forest Health, Pathology and Entomology. 06/09/2022
Posters:
Host preference of Gonipterus sp. 2 and chemical analysis of susceptible and resistant Eucalyptus species. Joubert J., Schroder M., Hurley B., and Hammerbacher A. 35th Annual meeting of the International Society of Chemical Ecology. 02/06/2019 
Host preference of Spondyliaspis cf. plicatuloides (Froggatt) (Hemiptera: Aphalaridae) in South Africa. Makunde P., Slippers B., Hammerbacher A., Joubert J., Hurley B. National Symposium on Biological Invasions 2021. 05/05/2021
News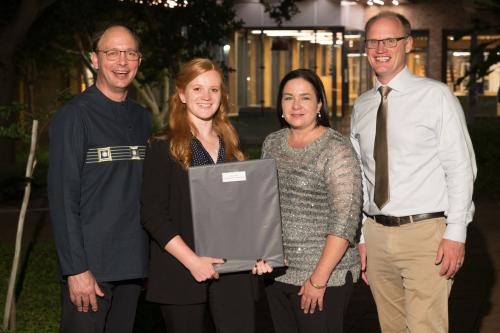 FABI ends the year in style
FABIans took a break from their research activities and dressed up to attend the annual Year End Function hosted at the Future Africa Campus on 18 November.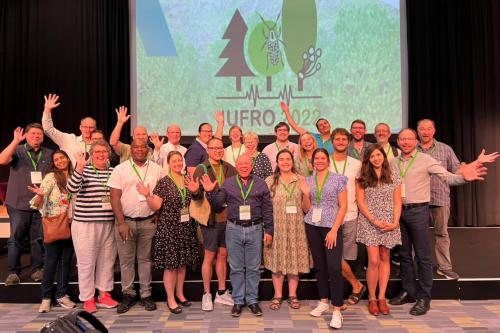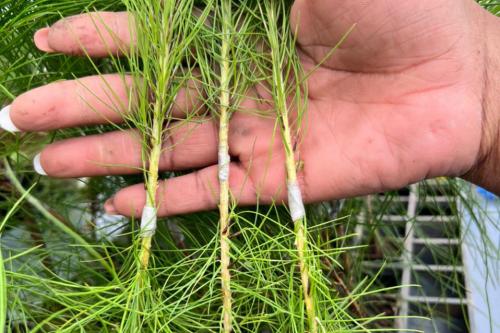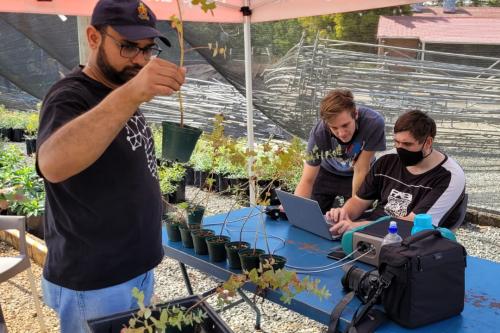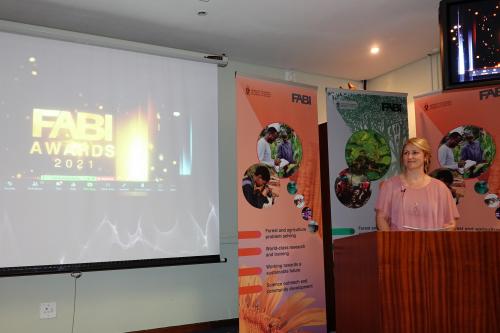 YEF 2021
FABI ended the year on a high with a hybrid Year End Function on 19 November.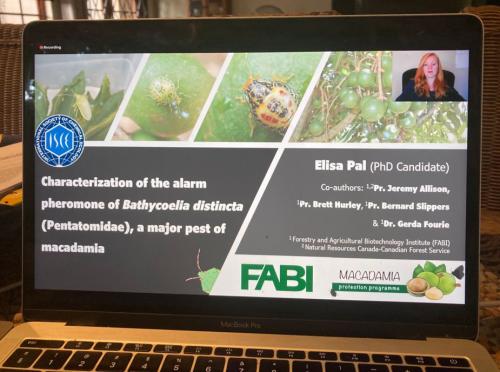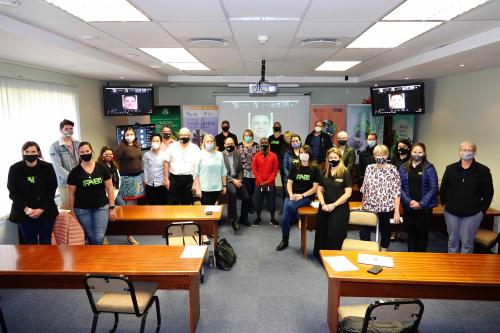 32nd Annual Symposium of the TPCP and CPHB
The 32nd Annual Symposium of the Tree Protection Co-operative Programme (TPCP) and DSI-NRF Centre of Excellence in Plant Health Biotechnology (CPHB) in FABI was hosted as a six-hour long hybrid meeting on 4 May.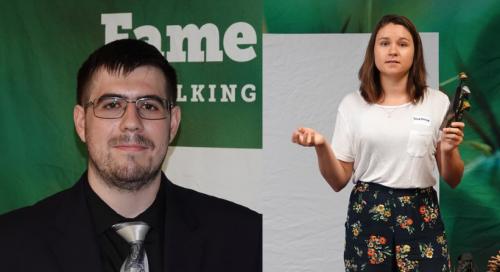 Two FABIans among 17 FameLab SA finalists
Two FABI PhD candidates are among 17 young science communicators from South African universities who will compete for a place in the FameLab International Finals scheduled for October. The FameLab SA finals will be held at a future date ahead of the international contest scheduled for October.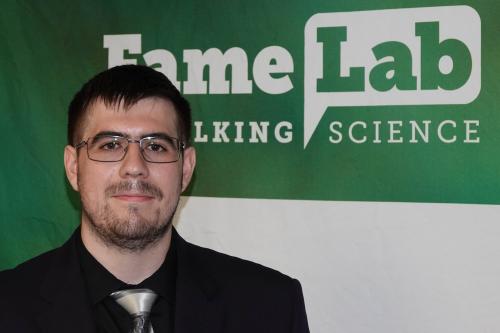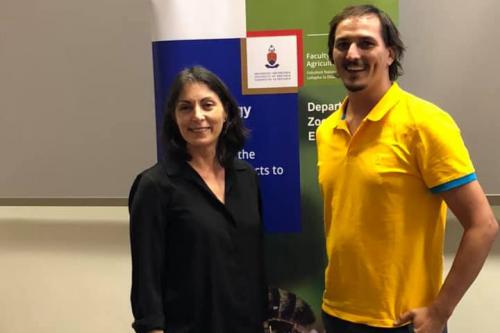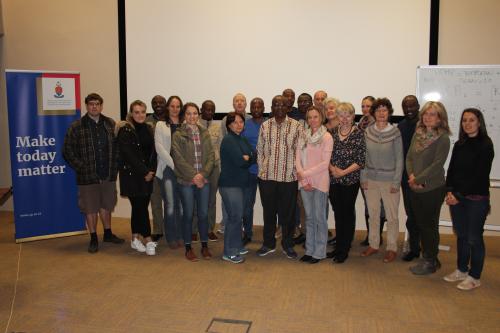 Modelling Workshop hosted by FABI
FABI hosted a simulation modelling workshop led by two leaders in the field, Dr Serge Savary and Dr Laetitia Willocquet; both senior scientists at the AGIR Research unit of INRA's Research Centre of Toulouse in France.