Dr Osmond Mlonyeni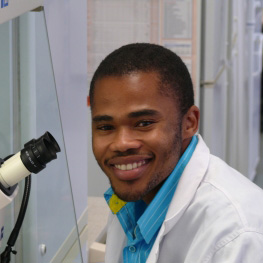 Department
Biochemistry, Genetics and Microbiology
This email address is being protected from spambots. You need JavaScript enabled to view it.
The aim of my PhD project is to use molecular genetics and genomics tools to characterize virulence and evolution of virulence in Deladenus siricidicola. Very little is understood about this aspect of biological control using entomopathogenic nematodes in biological control systems, despite the critical role this can play in the success of such programs. Understanding the virulence of this parasitic nematode is essential for improving its biological control capacity and will further add new knowledge about the general biology of the fascinating and important symbiotic system.
Other Interests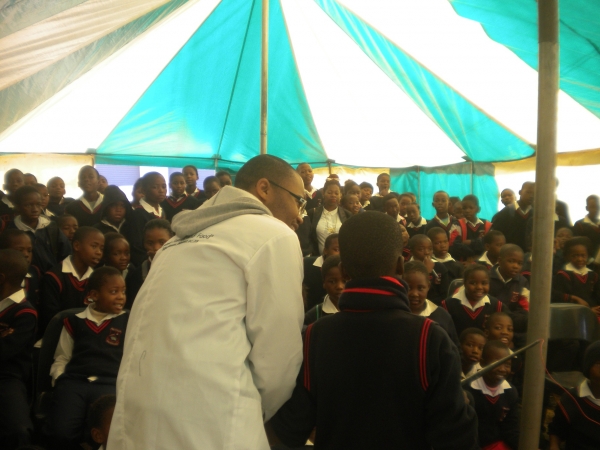 National Science Week 2013
Apart from my research, I am also very passionate about science outreach and mentorship. I am involved in the FABI mentorship programme and part of the outreach team. The two major programmes of the outreach team are UP with Science and  DST / SAASTA National Science Week. The aim of these are to contribute towards unlocking the inherent potential of students.
---
Tribute to Madiba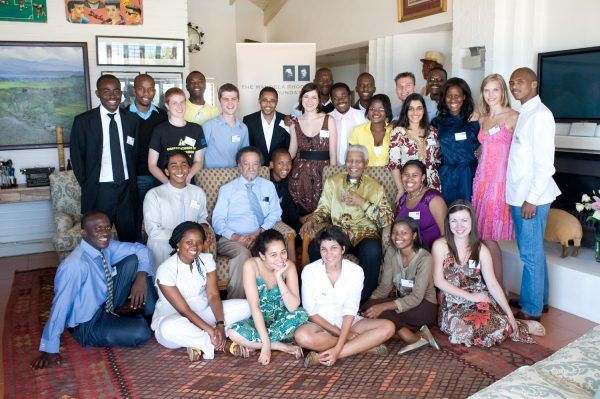 The Mandela Rhodes Scholars of 2009
President Nelson Mandela will remain a significant point of reference on how humanity can transcend artificial boundaries! On the 14th December 2013, I delivered a tribute to Tat'omkhulu Mandela, on behalf of the Mandela Rhodes Scholars, during the occasion of the Nelson Mandela Youth Commemoration Service, organized by the World Economic Forum Global Shapers: Tshwane Hub.
"Gallant son of this majestic African soil, we will honour this treasured gift with the vigour of our youth and will to succeed. THANK YOU, for your generation has taught us that our destiny can now never be a mirage when in service of humanity."
For the full speech, please find here
---
65th Lindau Nobel Laureate Meeting: A privilege of a lifetime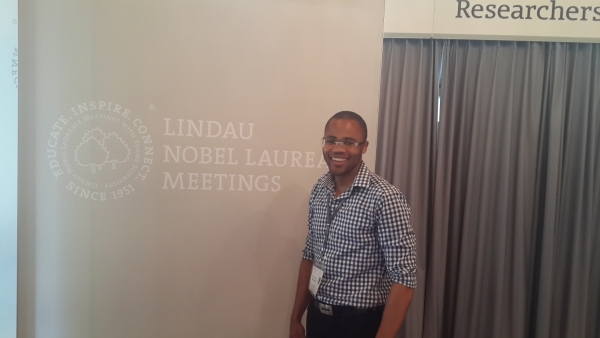 65th Lindau Nobel Laureate Meeting
Between 28 June to 3 July 2015, I had the privilege of attending the 65th Lindau Nobel Laureate Meeting in Germany as a Horst Köhler Fellow, following my nomination by the Global Young Academy and Robert Bosch Stiftung. Read more ...
I also had the opportunity to share aspects of my research and views about science in Africa with media group ARD-alpha Bildungskanal. Lindau Nobel Laureate Meeting 2015 interview
---
My Book Chapters
Export to RIS
Book Chapters
Slippers B, Hurley BP, Mlonyeni XO, de Groot P, Wingfield MJ. 2012. Factors Affecting the Efficacy of Deladenus siricidicola in Biological Control Systems. In: The Sirex Woodwasp and its Fungal Symbiont: Research and Management of a Worldwide Invasive Pest. Slippers B, de Groot P, Wingfield MJ. (eds). Springer, pp 119-133.

My Journal Articles
Export to RIS
Publication
Postma A, Mlonyeni OX, Clasen F, Joubert F, Slippers B. (2019) The draft genome of Deladenus siricidicola. Journal of Nematology 51:e2019-36. 10.21307/jofnem-2019-036

Mlonyeni XO, Wingfield BD, Greeff JM, Hurley BP, Wingfield MJ, Slippers B. (2018) Population variation in traits of Deladenus siricidicola that could influence the biocontrol of Sirex noctilio in South Africa. International Journal of Pest Management 64(4):324-332. 10.1080/09670874.2017.1421327

Mlonyeni XO, Wingfield MJ, Greeff JM, Wingfield BD, Slippers B. (2018) Genetic diversity of Amylostereum areolatum, the fungal symbiont of the invasive woodwasp Sirex noctilio in South Africa. Forest Pathology :e12449. 10.1111/efp.12449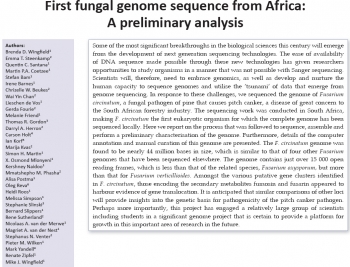 Wingfield BD, Steenkamp ET, Santana QC, Coetzee MPA, Bam S, Barnes I, Beukes CW, Chane W-Y, de Vos L, Fourie G, Friend M, Gordon TR, Herron DA, Holt C, Korf I, Kvas M, Martin SH, Mlonyeni XO, Naidoo K, Phasha MM, Postma A, Reva O, Roos H, Simpson M, Slinski S, Slippers B, Sutherland R, van der Merwe NA, van der Nest MA, Venter SNV, Wilken PM, Yandell M, Zipfel R, Wingfield MJ. (2012) First fungal genome sequence from Africa: a preliminary analysis. South African Journal of Science 108:104-122. 10.4102/sajs.v108i1/2.537

Leal I, Foord B, Davis C, de Groot P, Mlonyeni XO, Slippers B. (2012) Distinguishing isolates of Deladenus siricidicola, a biological control agent of Sirex noctilio, from North America and the Southern Hemisphere using PCR-RFLP. Canadian Journal of Forest Research-Revue Canadienne De Recherche Forestiere 42(6):1173-1177. 10.1139/X2012-058

Mlonyeni XO, Wingfield BD, Wingfield MJ, Ahumada R, Klasmer P, Leal I, De Groot P, Slippers B. (2011) Extreme homozygosity in Southern Hemisphere populations of Deladenus siricidicola, a biological control agent of Sirex noctilio. Biological Control 59:348-353. 10.1016/j.biocontrol.2011.09.009

Santana QC, Coetzee MPA, Steenkamp ET, Mlonyeni OX, Hammond GNA, Wingfield MJ, Wingfield BD. (2009) Microsatellite discovery by deep sequencing of enriched genomic libraries. BioTechniques 46:217-223. 10.2144/000113085