Ms Heidi Fysh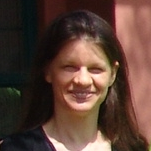 Department

Biochemistry, Genetics and Microbiology

Full CV

This email address is being protected from spambots. You need JavaScript enabled to view it.
My Files
I am the DST-NRF Centre of Excellence in Tree Health Biotechnology (CTHB) administrative officer, and I deal with all administrative duties associated with the day-to-day running of the CTHB. I have various other duties such as assisting with preparation of powerpoint presentations, managing audiovisual equipment at conferences, statistical analyses of research outputs and management of licenses for software analysis programmes.
I completed my Masters degree in genetics under the supervision of Prof Paulette Bloomer in the Molecular Ecology and Evolution programme within the Department of Genetics at the University of Pretoria. I described the genetic diversity within two species of endangered endemic freshwater fish of the Cape Floristic region, the Cape Kurper and the Eastern Cape Rocky. The study included population-level and species-level diversity questions. This work resulted in the prioritisation of a number of Cape coastal rivers for the protection of these two fish species.
My Book Chapters
Export to RIS
Book Chapters
Wingfield BD, van Wyk M, Roos H, Wingfield MJ. 2013. Ceratocystis: emerging evidence for discrete generic boundaries. In: The Ophiostomatoid Fungi: Expanding Frontiers. Seifert KA, de Beer ZW, Wingfield MJ. (eds). CBS-KNAW Fungal Biodiversity Centre, Utrecht, The Netherlands, pp 57-64.

My Journal Articles
Export to RIS
Publication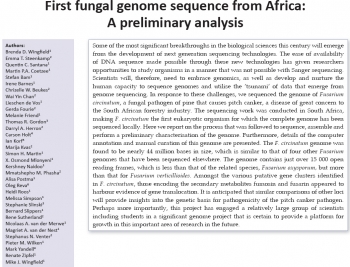 Wingfield BD, Steenkamp ET, Santana QC, Coetzee MPA, Bam S, Barnes I, Beukes CW, Chane W-Y, de Vos L, Fourie G, Friend M, Gordon TR, Herron DA, Holt C, Korf I, Kvas M, Martin SH, Mlonyeni XO, Naidoo K, Phasha MM, Postma A, Reva O, Roos H, Simpson M, Slinski S, Slippers B, Sutherland R, van der Merwe NA, van der Nest MA, Venter SNV, Wilken PM, Yandell M, Zipfel R, Wingfield MJ. (2012) First fungal genome sequence from Africa: a preliminary analysis. South African Journal of Science 108:104-122. 10.4102/sajs.v108i1/2.537