Dr David Livingstone Nsibo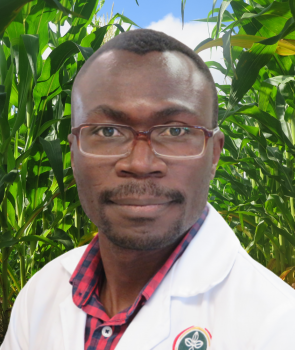 Lecturer
Department
Plant and Soil Sciences
This email address is being protected from spambots. You need JavaScript enabled to view it.
Research Profiles
My Students
Doctoral Students
Masters Students
My Links
The comprehensive understanding of pathogen populations and the evolutionary forces that drive their biology and genetics are crucial for the development of effective management of cereal pathogens. The goal of my research is to determine the extent and patterns of genetic variation in populations of foliar pathogens of cereals and to understand how these pathogens cause disease using an array of innovative molecular-based and genomics-based tools.
Currently, we are studying the genetic diversity of Exserohilum turcicum, a foliar fungal pathogen of maize and sorghum and are taking a multifaceted approach utilizing genetics, molecular biology, and evolutionary biology to understand its population genetic structure. Questions explored relate to the evolutionary factors influencing the pathogen's genetic diversity; dispersal mechanisms; migration patterns; and genetic diversity. Ultimately these studies will foster the development of efficient management strategies of the pathogen, thereby promoting increased maize production.
Previous research
In 2019, I completed my PhD in Plant Science at the Department of Plant and Soil Sciences, Forestry and Agricultural Biotechnology Institute (FABI), University of Pretoria and graduated in April 2020. My PhD was entitled "Population genetics of the maize foliar pathogen Cercospora zeina (Crous & U. Braun) in five countries of sub-Saharan Africa" and was conducted under the supervision of Prof. Dave K. Berger and Prof. Irene Barnes. Gray leaf spot (GLS) disease is a major foliar disease of maize causing more than 1 % global yield losses. C. zeina is implicated as the causal pathogen of GLS in Africa. There was a big knowledge gap about C. zeina's genetic diversity and evolutionary potential in Africa. My study, therefore, aimed to determine the genetic diversity of C. zeina in five countries in sub-Saharan Africa using 11 microsatellite markers, and to establish the evolutionary forces defining its population structure. We hypothesized that C. zeina was highly diverse in Africa, with sexual recombination and migration defining its population structure. The objectives of the study included: i) to determine the role of farming systems in defining the population structure of C. zeina in South Africa's commercial and smallholder maize farms; ii) to evaluate the diversity and gene flow of C. zeina between major producing countries in Kenya, South Africa, Uganda, Zambia, and Zimbabwe; and iii) to induce the sexual stage of C. zeina under different environmental conditions in vitro and in planta. Throughout my PhD study, there was cumulative evidence that C. zeina is highly diverse, owing to cryptic sexual recombination, migration, and gene flow. Due to its high evolutionary potential, it is likely to become one of the most prevalent airborne and splash-dispersed foliar pathogens of maize in addition to E. turcicum and B. maydis, causing severe epidemics in Africa and globally. For its effective management, therefore, we recommended the deployment of a mixture of resistant maize genotypes and the usage of fungicides in either varying combinations or in rotations depending on their mechanisms of action.
In 2013, I completed a MSc. Degree in Plant Science at Wageningen University, The Netherlands under the supervision of Prof. Francine Govers. My major research project was entitled; "The role of lectin receptor kinases in Phytophthora disease resistance." In this research, we determined the functionality of Arabidopsis L-type lectin receptor kinases (LecRKs), LecRK-1.9 and LecRK-IX.1 in the Phytophthora resistance when transformed into Nicotiana benthamiana. Several transgenic lines were generated for each gene and molecular analyses revealed multiple transgenic copy numbers and expression levels. Detached and in-planta infection assays showed that N. benthamiana transgenic lines expressing either LecRK-1.9 or LecRK-IX.1 exhibited more resistance to Phytophthora capsici and Phytophthora infestans. The study revealed that these genes have the potential to function as complementary Phytophthora resistance resources in many plants.
During the same study, we got interested to know the evolutionary history of these lectin receptor like kinase gene families. Under the supervision of Prof. Eric Schranz I therefore conducted a second research project in the Biosystematics laboratory entitled "The genomic and phylogenetic analysis of lectin receptor kinases in Brassicaceae species" In this study we employed several bioinformatics tools to mine and compare L-type LecRK genes encoded in nine core-eudicot genomes including five Brassicaceae species: Arabidopsis thaliana, Arabidopsis lyrata, Brassica rapa, Thellungiella halophila, and Aethionema arabicum, one Cleomaceae species: Tarenaya hasslerania; one Caricaceae species: Carica papaya; one Malvaceae species: Theobroma cacao; and one Vitaceae species: Vitis vinifera. Using sequence homology, HMM-driven protein domain annotation, phylogenetic analysis and gene synteny, this study revealed that both polyploidy and local duplication have played a major role in the expansion of LecRK and L-type lectin receptor protein (LLP) gene families. We further showed that LLPs share a common evolutionary origin with LecRKs. This study is a major framework to support current and future plant resistance breeding.
My Galeries
News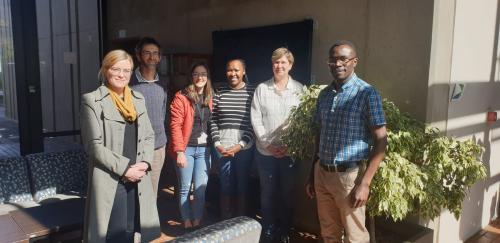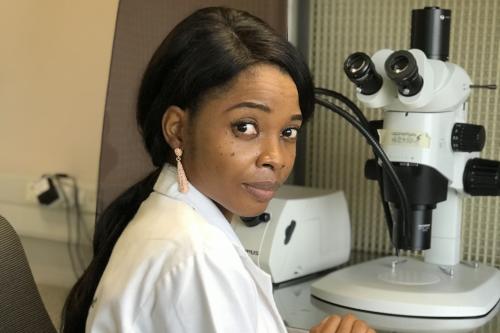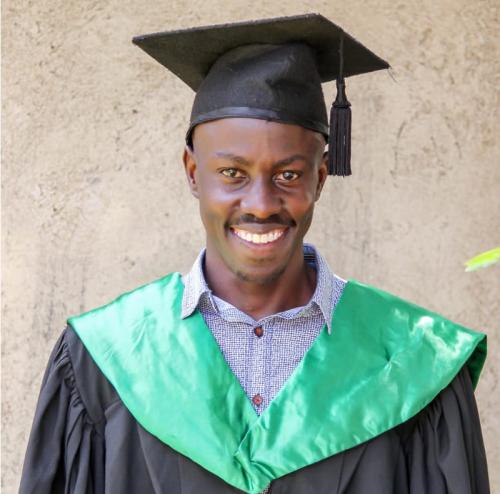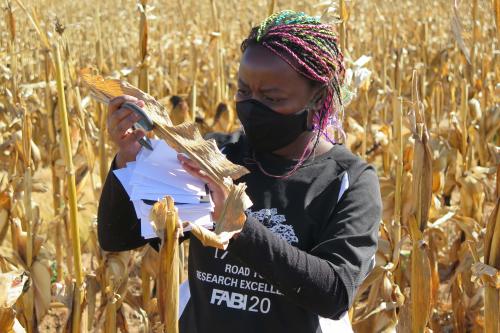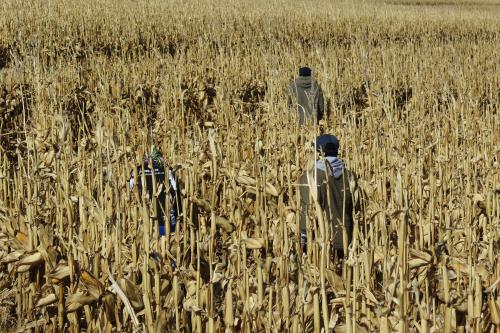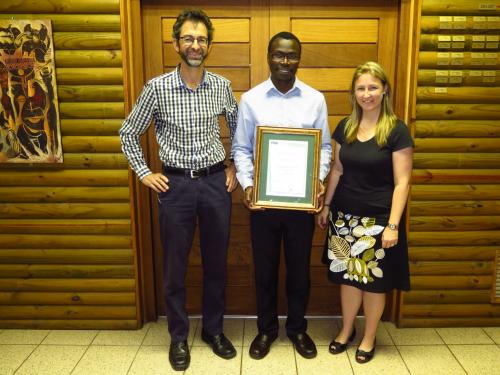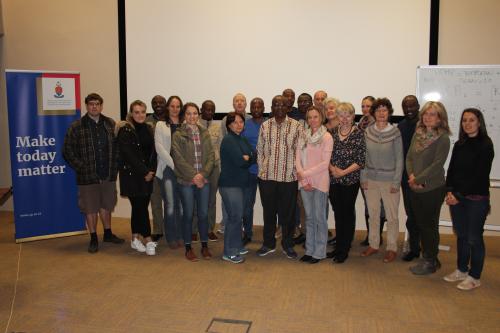 Modelling Workshop hosted by FABI
FABI hosted a simulation modelling workshop led by two leaders in the field, Dr Serge Savary and Dr Laetitia Willocquet; both senior scientists at the AGIR Research unit of INRA's Research Centre of Toulouse in France.
My Journal Articles
Export to RIS
Publication
Omondi DO, Dida MM, Berger DK, Beyene Y, Nsibo DL, Juma C, Mahabaleswara SL, Gowda M. (2023) Combination of Linkage and Association Mapping with Genomic Prediction to Infer QTL Regions Associated with Gray Leaf Spot and Northern Corn Leaf Blight Resistance in Tropical Maize. Frontiers in Genetics 14:1-16. 10.3389/fgene.2023.1282673

Wingfield BD, Berger DK, Coetzee MPA, Duong TA, Martin A, Pham NQ, Van den Berg N, Wilken PM, Arun-Chinnappa KS, Barnes I, Buthelezi S, Dahanayaka BA, Durán A, Engelbrecht J, Feurtey A, Fourie A, Fourie G, Hartley J, Kabwe ENK, Maphosa M, Narh Mensah DL, Nsibo DL, Potgieter L, Poudel B, Stukenbrock EH, Thomas C, Vaghefi N, Welgemoed T, Wingfield MJ. (2022) IMA genome‑F17. 13:19. 10.1186/s43008-022-00104-3

Nsibo DL, Barnes I, Omondi DO, Dida MM, Berger DK. (2021) Population genetic structure and migration patterns of the maize pathogenic fungus, Cercospora zeina in East and Southern Africa. Fungal Genetics and Biology 149(103527) 10.1016/j.fgb.2021.103527

Nsibo DL, Barnes I, Kunene NT, Berger DK. (2019) Influence of farming practices on the population genetics of the maize pathogen Cercospora zeina in South Africa. Fungal Genetics and Biology 125:36-44. 10.1016/j.fgb.2019.01.005

Wang Y, Nsibo DL, Juhar HM, Govers F, Bouwmeester K. (2016) Ectopic expression of Arabidopsis L-type lectin receptor kinase genes LecRK-I.9 and LecRK-IX.1 in Nicotiana benthamiana confers Phytophthora resistance. Plant Cell Reports :1-11. 10.1007/s00299-015-1926-2

Hofberger JA, Nsibo DL, Schranz ME, Govers F, Bouwmeester K. (2015) A Complex Interplay of Tandem- and Whole-Genome Duplication Drives Expansion of the L-Type Lectin Receptor Kinase Gene Family in the Brassicaceae. Genome Biology and Evolution 7(3):720-734. 10.1093/gbe/evv020