Dr David Livingstone Nsibo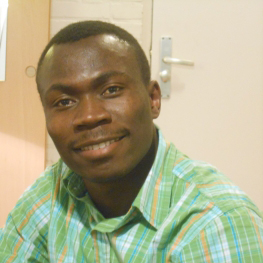 Postdoctoral Fellow
Department
Plant and Soil Sciences
This email address is being protected from spambots. You need JavaScript enabled to view it.
Research Profiles
My Links
My doctoral research focuses on grey leaf spot (GLS) disease, a notorious foliar disease of great economic importance in maize (Zea mays) producing countries worldwide. As the demand for maize increases, its production is continually being threatened by an array of biotic stresses including GLS, whose causative pathogen is Cercospora zeina in Africa, China and Eastern parts of United States. My research is aimed at elucidating the genetic diversity of C. zeina in African countries north of South Africa with interest in understanding the evolutionary forces driving its population structure.
I completed my MSc in Plant Science at Wageningen University and Research Centre, The Netherlands, where I accomplished two theses. My major thesis, under the Phytophthora group in the Phytopathology department focussed on understanding the role of legume-like lectin receptor kinases in Nicotiana benthamiana in the resistance of Phytophthora species. For my minor thesis under the Biosystematics department, I unveiled the evolutionary history of the legume-like lectin kinase gene family in Brassicaceae and also proposed a uniform nomenclature for a group of 11 legume lectin proteins based on their protein domains and Phylogenetic analysis. For my BSc Hons degree in Crop Science, I studied the role of integrated weed management (IWM) in controlling Striga hermonthica in maize-based cropping systems in Uganda at Makerere University.
My Galeries
News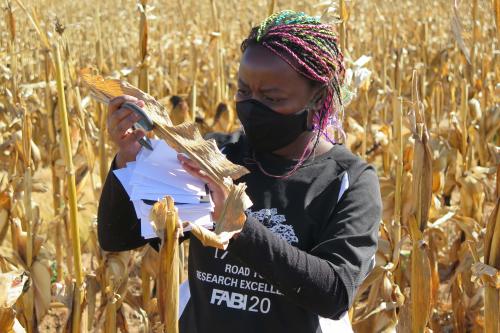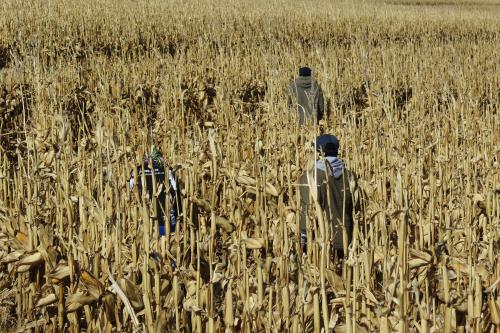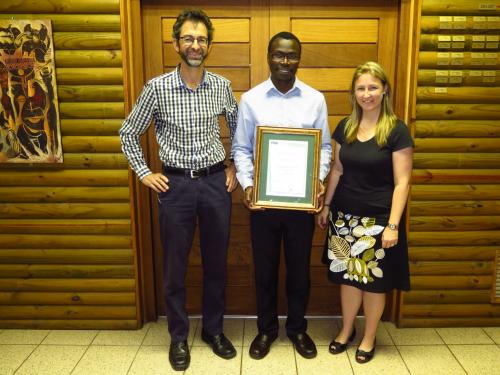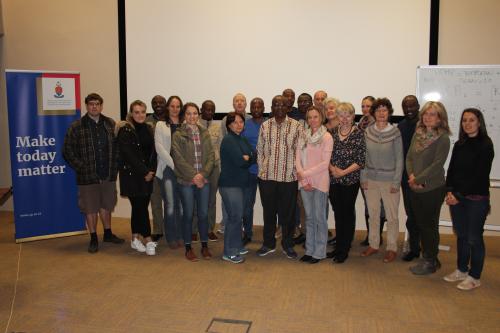 Modelling Workshop hosted by FABI
FABI hosted a simulation modelling workshop led by two leaders in the field, Dr Serge Savary and Dr Laetitia Willocquet; both senior scientists at the AGIR Research unit of INRA's Research Centre of Toulouse in France.
My Journal Articles
Export to RIS
Publication
Nsibo DL, Barnes I, Omondi DO, Dida MM, Berger DK. (2021) Population genetic structure and migration patterns of the maize pathogenic fungus, Cercospora zeina in East and Southern Africa. Fungal Genetics and Biology (103527) 10.1016/j.fgb.2021.103527

Nsibo DL, Barnes I, Kunene NT, Berger DK. (2019) Influence of farming practices on the population genetics of the maize pathogen Cercospora zeina in South Africa. Fungal Genetics and Biology 125:36-44. 10.1016/j.fgb.2019.01.005

Wang Y, Nsibo DL, Juhar HM, Govers F, Bouwmeester K. (2016) Ectopic expression of Arabidopsis L-type lectin receptor kinase genes LecRK-I.9 and LecRK-IX.1 in Nicotiana benthamiana confers Phytophthora resistance. Plant Cell Reports :1-11. 10.1007/s00299-015-1926-2

Hofberger JA, Nsibo DL, Schranz ME, Govers F, Bouwmeester K. (2015) A Complex Interplay of Tandem- and Whole-Genome Duplication Drives Expansion of the L-Type Lectin Receptor Kinase Gene Family in the Brassicaceae. Genome Biology and Evolution 7(3):720-734. 10.1093/gbe/evv020