Ms Frances Lane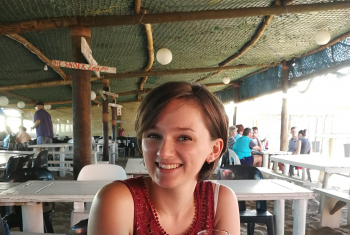 PhD student

Department

FABI

Full CV

This email address is being protected from spambots. You need JavaScript enabled to view it.
My Supervisor/s
I am a PhD student studying the sexual strategies of fungi in the family Ceratocystidaceae. My interest in the mating systems of fungi began during the final two years of my undergraduate degree as a TPCP/CTHB mentorship student at FABI. I continued this theme during my BSc Honours degree when I studied the mating-type genes of a group of plant and tree pathogens from the genus Davidsoniella.
For my MSc degree, I looked at different genetic transformation systems to transform the African tree pathogen Ceratocystis albifundus. I also explored the transferability of an Agrobacterium-mediated transformation protocol to other members of the family Ceratocystidaceae. From the eight species tested, each representing a different genus, I successfully transformed six. This study will provide a starting point for establishing transformation systems in these and related species of Ceratocystidaceae. This work will further contribute to future studies on the functionality of numerous genes of interest within these species.
My PhD aims to determine the roles of individual mating-type genes in Ceratocystis albifundus using the transformation systems investigated during my Masters. I will also be looking into the expression profiles of pheromone and pheromone receptor genes in natural isolates and in mutant strains. This will allow us to better understand the purpose of these gene in the unusual mating strategy of C. albifundus known as unidirectional mating-type switching. This system is also seen in other globally important plant and tree pathogens in the family Ceratocystidaceae. By studying their mating strategies, we can better understand the population dynamics of these species.
My Journal Articles
Export to RIS
Publication
Lane FA, Du Plessis D, Wingfield BD, Wilken PM. (2021) Transferring an Agrobacterium‐mediated transformation protocol across eight genera in the Ceratocystidaceae. Forest Pathology e12688 10.1111/efp.12688

van der Nest MA, Chávez R, De Vos L, Duong TA, Gil-Durán C, Ferreira MA, Lane FA, Levicán G, Santana QC, Steenkamp ET, Suzuki H, Tello M, Rakoma JR, Vaca I, Valdés N, Wilken PM, Wingfield MJ, Wingfield BD. (2021) Draft genome sequences of Penicillium roqueforti, Fusarium sororula, Chrysoporthe puriensis, and Chalaropsis populi. IMA Fungus 12:5. 10.1186/s43008-021-00055-1

Krämer D, Lane FA, Steenkamp ET, Wingfield BD, Wilken PM. (2021) Unidirectional mating-type switching confers self-fertility to Thielaviopsis cerberus, the only homothallic species in the genus. Fungal Biology 10.1016/j.funbio.2020.12.007

Wilken PM, Kharwar RN, Lumbsch HT, Navathe S, Pérez CA, Ramírez-Berrutti N, Sharma R, Sun Y, Wingfield BD, Huhndorf S, Duong TA, Aylward J, Chand R, Grewe F, Lane FA, Sinha S, Ametrano C, Distefano I, Divakur PK, Wingfield MJ. (2020) Draft genome sequences of Ambrosiella cleistominuta, Cercospora brassicicola, C. citrullina, Physcia stellaris and Teratosphaeria pseudoeucalypti.. IMA Fungus 11(19) 10.1186/s43008-020-00039-7

Wingfield BD, Kolarik M, Menzies JG, Naidoo K, Pochopski O, Shoukouhi P, Santana QC, Seifert KA, Soal NA, Steenkamp ET, Tatham CT, Van der Nest MA, Havenga M, Findlay W, Liu M, Nguyen HDT, Lane FA, Morgan SW, De Vos L, Wilken PM, Doung TA, Aylward J, Coetzee MPA, Dadej K, De Beer ZW, Wingfield MJ. (2018) Nine draft genome sequences of Claviceps purpurea s.lat., including C. arundinis, C. humidiphila, and C. cf. spartinae, pseudomolecules for the pitch canker pathogen Fusarium circinatum, draft genome of Davidsoniella eucalypti, Grosmannia galeiformis, Quambalaria eucalypti, and Teratosphaeria destructans. IMA Fungus 9(2):401-418. 10.5598/imafungus.2018.09.02.10