Dr Janneke Aylward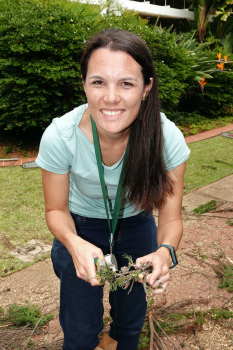 Postdoctoral Fellow
Department
FABI
This email address is being protected from spambots. You need JavaScript enabled to view it.
Member of:
Research Profiles
I joined FABI as a Postdoctoral Fellow at the beginning of 2017. Mycology and genetics are my main areas of interest – put these two together and I'm all ears! My postgraduate research at the University of Stellenbosch looked at the population genetics and genomics of ophiostomatoid fungi that occupy the flowers of Protea plants. Currently, I study Teratosphaeria fungal pathogens of Eucalyptus trees in forestry plantations. The contrast between the closely related leaf and stem pathogens in the genus Teratosphaeria are specifically intriguing and will be the focus of this genome-based research project.
News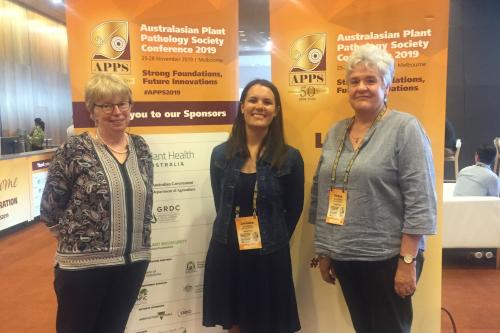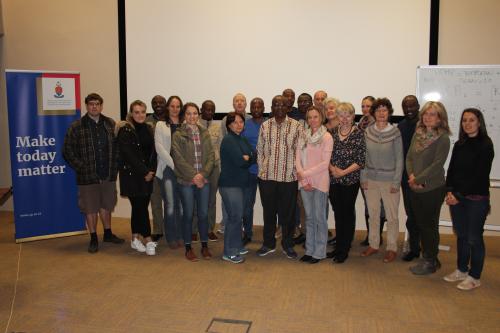 Modelling Workshop hosted by FABI
FABI hosted a simulation modelling workshop led by two leaders in the field, Dr Serge Savary and Dr Laetitia Willocquet; both senior scientists at the AGIR Research unit of INRA's Research Centre of Toulouse in France.
My Journal Articles
Export to RIS
Publication
Havenga M, Wingfield BD, Wingfield MJ, Marincowitz S, Dreyer LL, Roets F, Japarudin Y, Aylward J. (2021) Genetic recombination in Teratosphaeria destructans causing a new disease outbreak in Malaysia. Forest Pathology :e12683. 10.1111/efp.12683

Havenga M, Wingfield BD, Wingfield MJ, Dreyer LL, Roets F, Aylward J. (2020) Diagnostic markers for Teratosphaeria destructans and closely related species. Forest Pathology 50(6):e12645. 10.1111/efp.12645

Wilken PM, Kharwar RN, Lumbsch HT, Navathe S, Pérez CA, Ramírez-Berrutti N, Sharma R, Sun Y, Wingfield BD, Huhndorf S, Duong TA, Aylward J, Chand R, Grewe F, Lane FA, Sinha S, Ametrano C, Distefano I, Divakur PK, Wingfield MJ. (2020) Draft genome sequences of Ambrosiella cleistominuta, Cercospora brassicicola, C. citrullina, Physcia stellaris and Teratosphaeria pseudoeucalypti.. IMA Fungus 11(19) 10.1186/s43008-020-00039-7

Havenga M, Wingfield BD, Wingfield MJ, Dreyer LL, Roets F, Chen SF, Aylward J. (2020) Low genetic diversity and strong geographic structure in introduced populations of the Eucalyptus foliar pathogen Teratosphaeria destructans. Plant Pathology 69(8):1540-1550. 10.1111/ppa.13235

Havenga M, Chen S, Wilken PM, Duong TA, Tatham CT, Dreyer LL, Roets F, Wingfield MJ, Wingfield BD, Aylward J. (2020) Mating strategy and mating type distribution in six global populations of the Eucalyptus foliar pathogen Teratosphaeria destructans. Fungal Genetics and Biology 137:103350. 10.1016/j.fgb.2020.103350

Aylward J, Havenga M, Dreyer LL, Roets F, Wingfield BD, Wingfield MJ. (2020) Genomic characterization of mating type loci and mating type distribution in two apparently asexual plantation tree pathogens. Plant Pathology 69:28-37. 10.1111/ppa.13094

Wingfield BD, van Heerden CJ, van der Nest MA, Steenkamp ET, Roets F, Geiser DM, Duong TA, Dreyer LL, Coetzee MPA, Barnes I, Aylward J, Bushula-Njah VS, Simpson MC, Fourie A, Wingfield MJ. (2019) Draft genome sequences of Fusarium xylarioides, Teratosphaeria gauchensis and T. zuluensis and genome annotation for Ceratocystis fimbriata. IMA Fungus 10(13) 10.1186/s43008-019-0013-7

Aylward J, Roets F, Dreyer LL, Wingfield MJ. (2019) Teratosphaeria stem canker of Eucalyptus: two pathogens, one devastating disease. Molecular Plant Pathology 20(1):8-19. 10.1111/mpp.12758

Wingfield BD, Kolarik M, Menzies JG, Naidoo K, Pochopski O, Shoukouhi P, Santana QC, Seifert KA, Soal NA, Steenkamp ET, Tatham CT, Van der Nest MA, Havenga M, Findlay W, Liu M, Nguyen HDT, Lane FA, Morgan SW, De Vos L, Wilken PM, Doung TA, Aylward J, Coetzee MPA, Dadej K, De Beer ZW, Wingfield MJ. (2018) Nine draft genome sequences of Claviceps purpurea s.lat., including C. arundinis, C. humidiphila, and C. cf. spartinae, pseudomolecules for the pitch canker pathogen Fusarium circinatum, draft genome of Davidsoniella eucalypti, Grosmannia galeiformis, Quambalaria eucalypti, and Teratosphaeria destructans. IMA Fungus 9(2):401-418. 10.5598/imafungus.2018.09.02.10

Aylward J, Wingfield BD, Dreyer LL, Roets F, Wingfield MJ, Steenkamp ET. (2018) Genomic overview of closely related fungi with different Protea host ranges. Fungal Biology 122(12):1201-1214. 10.1016/j.funbio.2018.10.001

Aylward J, Wingfield BD, Dreyer LL, Roets F, Wingfield MJ, Steenkamp ET. (2017) Contrasting carbon metabolism in saprotrophic and pathogenic Microascalean fungi from Protea trees. Fungal Ecology 30:88-100. 10.1016/j.funeco.2017.09.002

Aylward J, Steenkamp ET, Dreyer LL, Roets F, Wingfield BD, Wingfield MJ. (2017) A plant pathology perspective of fungal genome sequencing. IMA Fungus 8(1):1-15. 10.5598/imafungus.2017.08.01.01

Aylward J, Dreyer LL, Laas T, Smit L, Roets F. (2017) Knoxdaviesia capensis: dispersal ecology and population genetics of a flower-associated fungus. Fungal Ecology 26:28-36. 10.1016/j.funeco.2016.11.005

Aylward J, Steenkamp ET, Dreyer LL, Roets F, Wingfield BD, Wingfield MJ. (2016) Genome sequences of Knoxdaviesia capensis and K. proteae (Fungi: Ascomycota) from Protea trees in South Africa. Standards in Genomic Sciences 11(1):1-7. 10.1186/s40793-016-0139-9

Aylward J, Steenkamp ET, Dreyer LL, Roets F, Wingfield MJ, Wingfield BD. (2016) Genetic basis for high population diversity in Protea-associated Knoxdaviesia. Fungal Genetics and Biology 96:47-57. 10.1016/j.fgb.2016.10.002

Aylward J, Dreyer LL, Steenkamp ET, Wingfield MJ, Roets F. (2015) Knoxdaviesia proteae is not the only Knoxdaviesia-symbiont of Protea repens. IMA Fungus 6(2):471-476. 10.5598/imafungus.2015.06.02.10

Aylward J, Dreyer LL, Steenkamp ET, Wingfield MJ, Roets F. (2015) Long-distance dispersal and recolonization of a fire-destroyed niche by a mite-associated fungus. Fungal Biology 119(4):245-256. 10.1016/j.funbio.2014.12.010

Aylward J, Dreyer LL, Steenkamp ET, Wingfield MJ, Roets F. (2014) Panmixia defines the genetic diversity of a unique arthropod-dispersed fungus specific to Protea flowers. Ecology and Evolution 4(17):3444-3455. 10.1002/ece3.1149

Aylward J, Dreyer LL, Steenkamp ET, Wingfield MJ, Roets F. (2014) Development of polymorphic microsatellite markers for the genetic characterisation of Knoxdaviesia proteae (Ascomycota: Microascales) using ISSR-PCR and pyrosequencing. Mycological Progress 13(2):439-444. 10.1007/s11557-013-0951-1